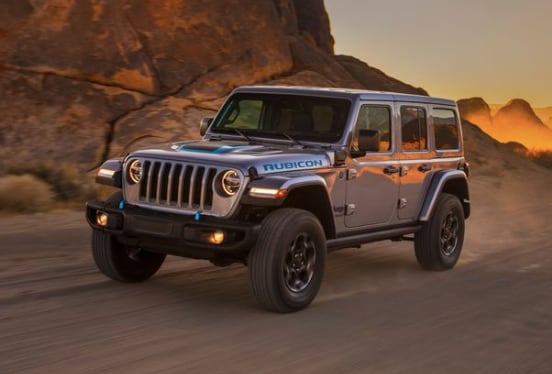 When it comes to vehicles that combine the best functionality with optimum performance and premium interior features, Jeep stands out. This iconic brand continues to supply its drivers with a fantastic driving experience. The Jeep brand boasts several lineups of impressive vehicles. Among the extensive lineup are the 2021 Jeep Wrangler, 2021 Jeep Renegade, and 2021 Jeep Cherokee. Let's check them out!
2021 Jeep Wrangler
The new 2021 Jeep Wrangler comes with two new powertrains. They include the 375-hp plug-in hybrid 4Xe and the high-performance 470-hp 6.4-liter V-8-new inclusions to the standard 3.6-liter V-6 and the optional turbocharged four-cylinder engine. Regardless of your engine choice, you can be sure that your Wrangler will perform at the highest level. If you're a driver that loves tackling trails with electric power only, then the 4Xe powertrain option should be your preferred option. 
Even when the battery runs low, you can rely on the turbocharged engine to drive your Wrangler's wheels. The 2021 Jeep Wrangler's interior is a combination of the modern and classic Jeep character. Several interior upgrades ensure that you have a comfortable ride. The standard and available safety features ensure that you, your family, and cargo remain safe while having an enjoyable driving experience. 
2021 Jeep Renegade 
Despite being Jeep's smallest SUV, the 2021 Jeep Renegade is a vehicle that commands off-road capability. It comes with an adequate 2.4-liter inline-4 base engine. An upgraded engine is also available on the Latitude model and standard on the Limited and Trailhawk models. This upgraded engine is a 1.3-liter turbo-4. These engine options are mated to a nine-speed automatic transmission. 
The 2021 Jeep Renegade comes with automatic emergency braking as a standard feature on each of the models. Every trim level gets upright styles, tall ride height, and a seven-slot grille. It has the shape of a subcompact crossover with several stable features and an upright hood. The 2021 Renegade has spacious cargo with high-quality material. You can be sure of an incredible ride in this vehicle. 
2021 Jeep Cherokee
The 2021 Jeep Cherokee stands out from the everyday compact crossovers with best-in-class towing and off-road capabilities. Drivers who need a vehicle that can conquer different road conditions will enjoy time with this vehicle. The Cherokee has a base 2.4-liter inline-4 engine as well as optional 3.2-liter V-6 and 2.0-liter turbo-4 engines. Each of the engines supplies improved performance, which helps the Jeep Cherokee drive with solidity. 
The interior of the 2021 Jeep Cherokee includes simple-to-use controls and supportive seats. This makes the cabin attractive and comfortable. The dashboard mimics the larger layout of the Grand Cherokee, helping to cultivate an upscale feeling. The National Highway Traffic Safety Administration (NHTSA) gave the 2021 Jeep Cherokee a five-star crash-test rating for its safety and driver-assistance features. Therefore, you are sure of a safe and secure ride. 
It's time to get your new Jeep SUV, and the best Jeep dealership to do so is Rocky Top Chrysler Jeep Dodge. We are the best Jeep dealer in Kodak, TN. We boast of an inventory filled with high-quality vehicles, including the 2021 Jeep Wrangler, 2021 Jeep Renegade, and 2021 Jeep Cherokee for sale. Suppose you're looking for the top Jeep dealer near Sevierville, Knoxville, and Morristown, TN. In that case, we're always here to assist you!