Rocky Top Chrysler Jeep Dodge Announces Mopar Accessories for All-New 2021 Jeep Grand Cherokee L in Kodak, TN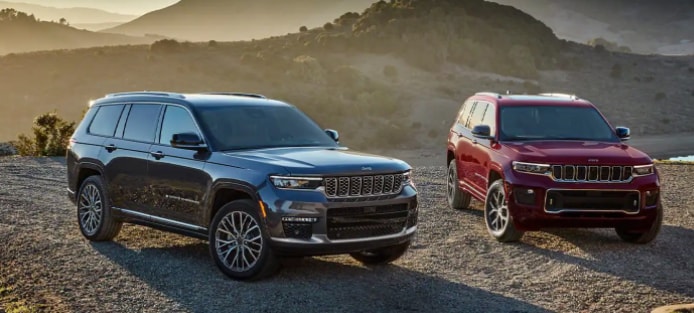 The 2022 Jeep Grand Cherokee L is one of the best sellers in several dealerships. The majority of families have and want the Cherokee L. This is because it is pretty family-friendly and has versatile functions. The Grand Cherokee L meets up with a reasonable percentage of the requirements of most of Jeep's customers. 
Having luxury infused with incredible functionality and many accessories for use, the Grand Cherokee L delivers perfection. The three-row Grand Cherokee L gives its prospective owners outstanding benefits of personalizing and altering the components of the SUV to desired taste. Jeep makes provision for about 75 factory-packed, durable, and utile accessories. Likewise, Mopar provides precisely 500 accessories to the Jeep lineup. 
The 2022 Jeep Grand Cherokee L is purposely engineered to serve its owners with master-class on-road dynamism and legendary 4x4 capabilities. It embodies exclusive styling and genuine craftsmanship on the interior and exterior aspects. 
What Is New in the 2022 Jeep Grand Cherokee
The 2022 Jeep Grand Cherokee L being a luxurious full-size SUV, comes with new 21-inch fancy wheels. This wheel is crystal-made and has a triple split design, five-spoke, and a unique Jeep center casing. Ready to go fishing, camping, cycling, or surfing? The Grand Cherokee L has a collection of accessories that ease your outdoor activities. It hosts accessories like a water sport carrier, tent kit, pet kennel, cargo-basket net, roof-rack crossbars, and more. The 2022 Jeep Grand Cherokee L is no less a multipurpose family-friendly SUV. Every family deserves one. 
Is the 2022 Jeep Grand Cherokee L Worth Buying? 
Jeep frequently goes beyond merely satisfying its customers; it ensures you get value from what you spend money on. This vehicle outstrips the expectations of what an SUV commonly appears. The 2022 Jeep Grand Cherokee L is a product of an impressive design that attracts the eyes and appeals to the mind. The Grand Cherokee L boasts of its outstanding towing prowess. It makes less noise and can move fast for a full-size SUV.
Is it time to get your new Jeep SUV for sale? Stop by the best Jeep dealership today at Rocky Top Chrysler Jeep Dodge we are the best Jeep dealer in Kodak, TN. Our inventory is filled with high-quality vehicles, including the 2022 Jeep Grand Cherokee L for sale. Check out our new Jeep reviews for the model that best fits your style. We also have the best new car finance specials that you'll find in town. 
Our Jeep service center works around the clock to ensure that your vehicle remains in the best shape. Suppose you're looking for the top Jeep dealership near Sevierville, TN. In that case, we're always looking forward to having you. We also serve drivers near Knoxville, Morristown, and Nashville, TN. There is no better place to value your trade-in and trade-in your vehicle than at Rocky Top Chrysler Jeep Dodge.