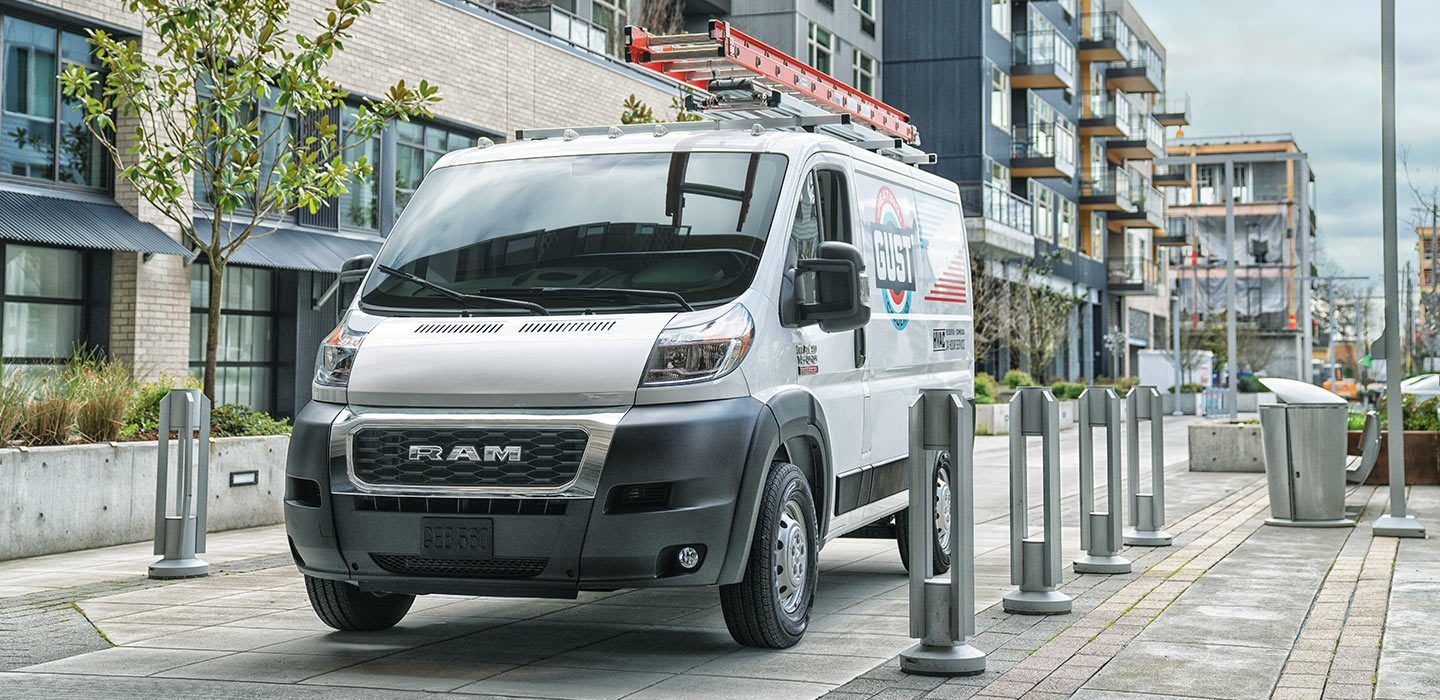 Where capability and size matter, the new 2019 Ram ProMaster does not disappoint. The hard-charging Ram van has been revamped with incredible payload and towing improvements for the latest model year. Commercial customers can see the 2019 Ram ProMaster capability upgrades up close at Rocky Top Chrysler Jeep Dodge.
Exterior Features to Look Forward To
At first sight, it is hard not to notice the redesign of the Ram ProMaster and ProMaster City vans front fascias. These now boast the "RAM" grille theme, a continuity from the pickup range. The exterior's facelift also includes black bumpers, side panels, optional black steel wheels, polycarbonate side rear windows are available on high roof models and side rear windows with steel grates on low-roof models. The optional interior LED lighting is 20 times brighter than before and includes integrated motion sensors for added safety.
Technology that Will Raise it Above the Fleet
The 2019 Ram ProMaster features fleet-friendly technologies like telematics. Ram Telematics provide vehicle tracking and statistics on driver behavior to help employers save money on fuel, improve productivity and endorse safe driving. These vehicle diagnostics and performance data are provided in real time.
Versatile Configurations
The 2019 Ram ProMaster is available in 18 versatile configurations. The exclusive front-wheel-drive system reduces the weight and complexity and all the components are placed beneath the cab. This keeps the cargo-load-floor and step-in heights very low. This in turn helps the driver in low-traction surfaces, like snow.
Best-in-class Features
Some of the best-in-class features are the turning diameter, standard interior cargo height, load-floor height, cargo width between wheel wells, maximum cargo width and its increased payload capability.
The 2019 Ram ProMaster offers customization, versatility and distinct styling that will surpass the demands of commercial customers. For a more compact version, you can select the 2019 Ram ProMaster City. It provides stiff competition in the compact Class 1 van segment.
For superior exterior design, versatility, practicality and a level of refinement unexpected in the commercial small van category, come in to Rocky Top Chrysler Jeep Dodge to see Ram's latest production.