Wow, the 2019 Ram 1500 has really been dominating the auto industry recently. So much is going for this truck since its debut at the 2018 Detroit Auto Show. First, there were updates on trims such as the Ram 1500 BigHorn, Laramie Longhorn, and Tradesman, and then we found out the 2019 Ram 1500 light duty pickup truck would still be as still as affordable as ever, with an MSRP starting at $31,695. There was also the presentation at the 2018 Chicago Auto Show; Ram and Mopar presented a new catalog of performance parts to personalize the new Ram truck so that consumers don't need to go for aftermarket accessories to enjoy the 2019 Ram 1500. WardsAuto just named it on their "10 Best Interiors" list, making the new 2019 Ram 1500 pickup truck a winner inside and out.
Is it really any surprise though? When the 2019 Ram 1500 light duty pickup truck debuted, the body and the cabin were completely redesigned in comparison with past alterations. Ram's attention to detail is always superb, and this year consumer convenience and comfortability stood out in the interior more than ever. For the 2019 model year, the Ram 1500 integrates acoustic glass and active noise cancellation technologies to create an quiet interior cabin free of traffic noises and the loud music of our neighbors on the road. And it's pretty clear when talking about technology, there's one bit of the center console that really catches the eye.
"Starting with the eye-catching 12-inch touchscreen that dominates the instrument panel, the 2019 Ram 1500 shows the world what is possible inside a full-size pickup truck … In addition to the ultra-sophisticated electronics, the materials and design details in the Limited and Laramie Longhorn editions would be at home in a luxury car costing six figures. And, on top of that are dozens of surprise and delight features that turn the Ram 1500 into a lifestyle vehicle for many different — and fun — lifestyles." – WardsAuto Senior Content Director Drew Winter.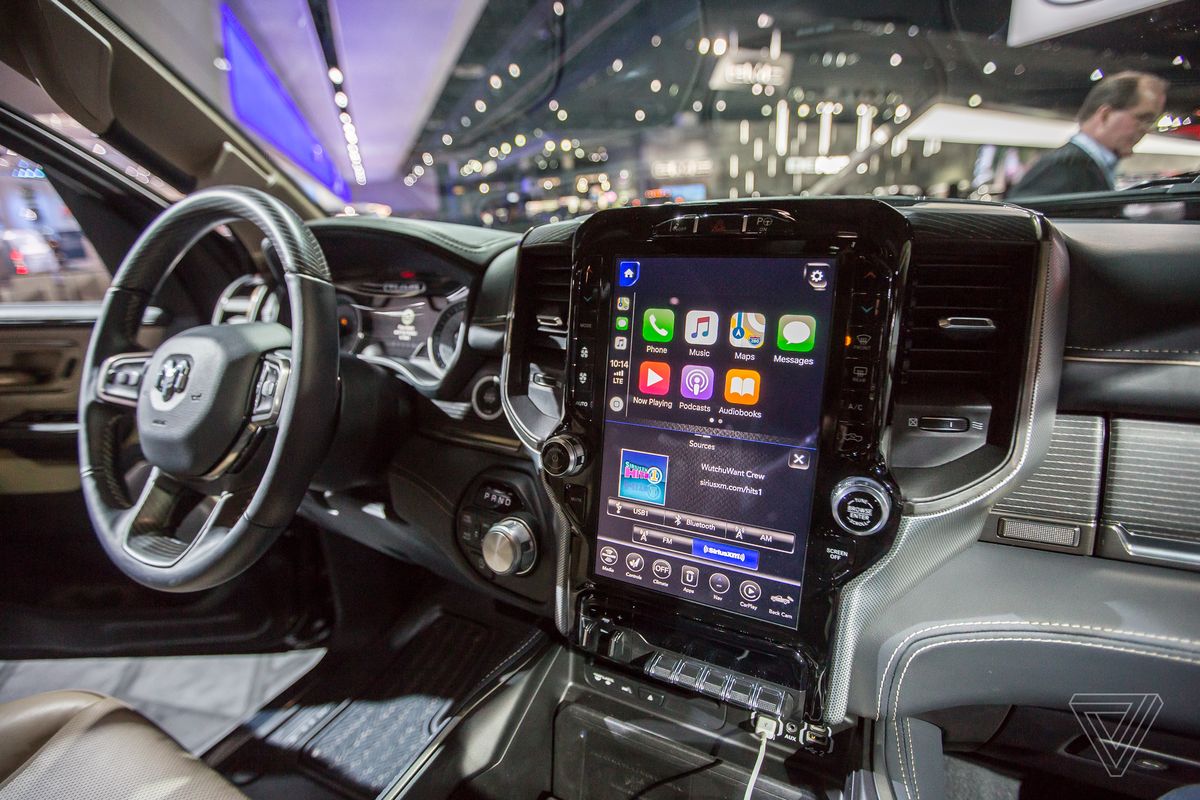 That giant, vertical 12-inch touchscreen wowed those at WardsAuto, not only because it's nice to look at, but its design makes it easy to comprehend and user-friendly, a huge plus when integrating new technology into the modern vehicles of today. Of course, a shiny new infotainment system isn't the only change Ram added to the 1500 truck. There's also a wider docking area for optional wireless charging of a small tablet or smartphone, a deep storage tub designed for a 15-inch laptop and additional lined compartment under the center armrest, and another tablet holder for rear passengers behind the two cup holders.
But enough about technology. WardsAuto was very impressed with the interior of the 2019 Ram 1500 Limited trim, one that so happens to have borrowed some cues from the 2019 Ram 1500 Limited Tungsten Edition. The Ram 1500 Limited-grade Crew Cab 4×4 was shown off during the conduction of the "10 Best Interiors List" and its indigo/frost interior color combination wowed editors and judges. Plus, Ram lost some of the ol' west country vibe of other Ram trims, making the Limited feel like a luxury trim without the high luxury price – the 2019 Ram 1500 starts at $55,485.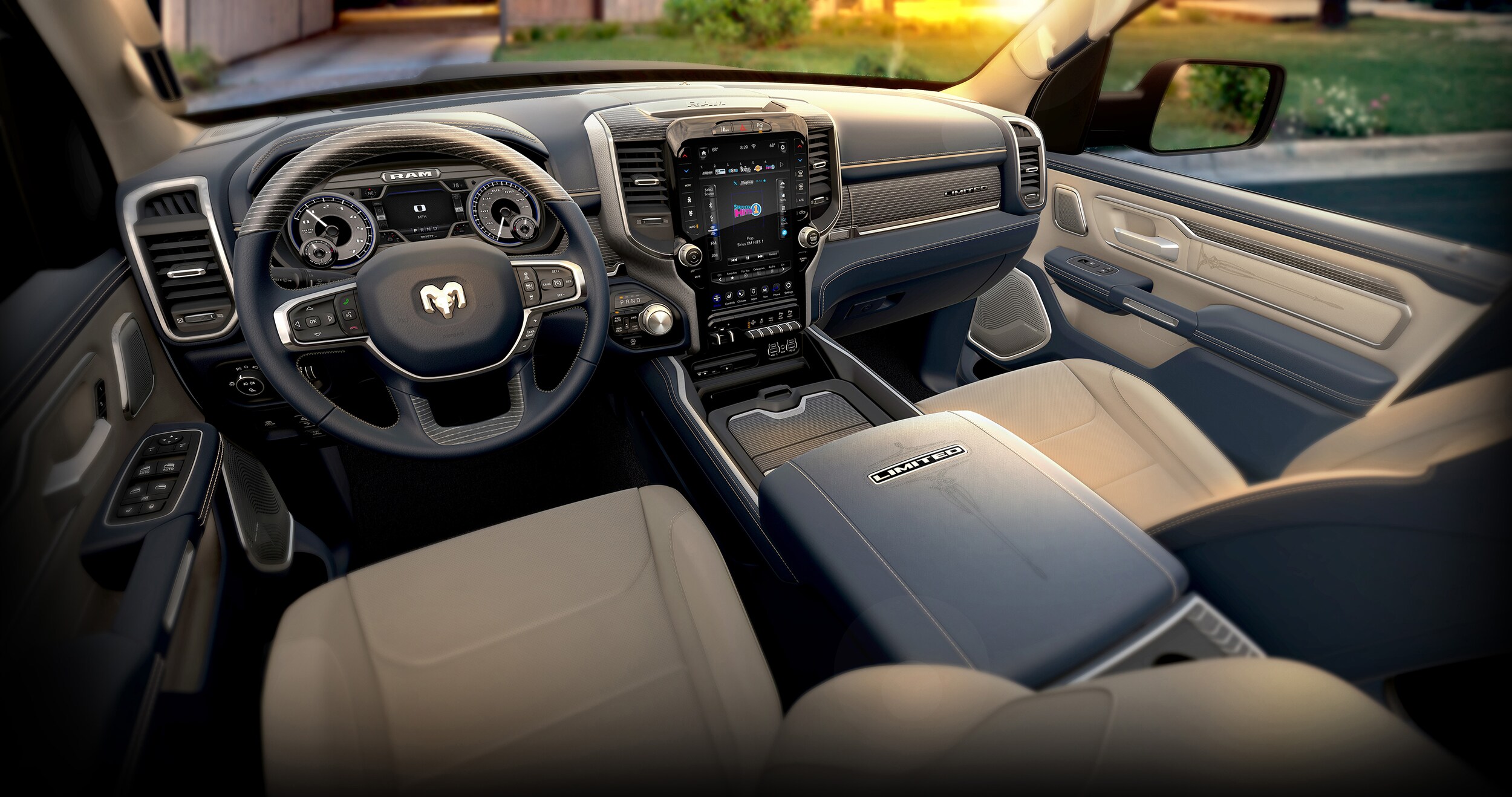 WardsAuto is an organization that covers the latest news, data, and analysis for today's auto industry. For their "10 Best Interiors" list, 40 car interiors are nominated for analysis by editors and judges. To make the cut, only interiors that were all new or were significantly improved from the previous model year were selected for the preliminary round. These changes included simple things like color choices (red being very popular this year), aesthetics like accents and stitching, styling to the feel of the interior itself, such as the materials used or the convenience of the many digital dials that perform multiple functions.
What do you say? Has WardsAuto picked a winner with the 2019 Ram 1500 light duty pickup truck? We think so, and we want to hear your thoughts. Visit us on our Rocky Top Chrysler Jeep Dodge Facebook page and drop a comment or look through our inventory for your own 2019 Ram 1500.