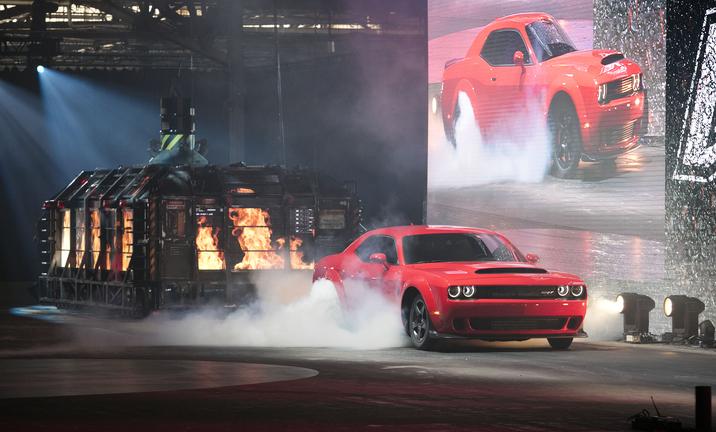 The brand-new 2018 Dodge Challenger SRT Demon is officially the most powerful V8 muscle car ever produced. A testament to its power and a definite bragging right, the Dodge Demon was banned by the NHRA after it was tested on the drag strip. The stock Dodge Demon is too quick to compete on the drag-strip, and is now prohibited from doing so without required safety equipment. The leading technologies behind it have created a firestorm among the racing community that's dying for more Dodge Demon information.
Dodge Demon Specs
·

840 horsepower

·

770 lb.-ft. of torque

·

2.7-liter supercharger

·

0-30 MPH in 1 second

·

0-60 MPH in 2.3 seconds

·

Quarter mile in 9.65 seconds at 140MPH
The 6.2-liter HEMI® Demon V8 engine packs an impressive punch with its ability to claim the highest horsepower in any production V8. It also has the highest G-force acceleration rating at 1.8 Gs. Guinness World Records then comes in to award the Demon with a first-ever front-wheel lift in a production car coming in at 2.92 feet. After taking the world record for the fastest quarter mile by a production vehicle, it is easy to see why so many motorheads are gunning for this car. For even the most hard-core drag racer, it'll be like nothing he's ever experienced.
With a killer air intake system, the vehicle takes another record of having the largest functional hood scoop at 45.2 inches. Known as the Air-Grabber™ induction system, it is being recognized for its role in the Demon's success. An RPM limit of 6,500 allows you to maximize the engine's ability to rock your world. While it is also one of the only production vehicles that is rated for use with 100+ high-octane fuel, it will take 91-octane as a daily driver. You may however, want to take full advantage of any performance classes the dealership may offer you.
Find High-Performance Dodge Cars for Sale at Rocky Top Chrysler Dodge Jeep!
Rocky Top Chrysler Dodge Jeep in Kodak, TN, has all of the information you could possibly want when considering purchasing such a powerful muscle car. We also have the Dodge Challenger Hellcat available for sale. Come see Rocky Top Chrysler Jeep to test drive your favorite Dodge Challenger today!